Are you planning to hit the yoga classes just for the sake of getting fit? Well, there are many miracles that this ancient science can do which other exercise routines cannot. According to a recent research, it was seen that yoga can:
Reduce the impact of stress, depression and anxiety.

Increase the production of serotonin (or, the 'feel good hormone') to soothe out your inner self. The practice is considered similar to other techniques such as meditation, relaxation,

reiki

and others.

Improve your energy levels.

Enhance will power, concentration, pain tolerance and self- boosting power.

Helps in strengthening the body- mind connection.

Reduce heart rate, controls blood pressure, and also help in Breathing for anxiety.

Detoxifies and purifies blood.
In comparison to a hard core workout session in the gym, it may take a long time to notice a positive change with yoga. And, this is the reason why many of us turn impatient and get bored while doing yoga. So, if yoga isn't your forte, you can use it in combination with other exercises like Pilates, Zumba, gyming and more to have a balance between your physical and mental health.
Practicing yoga the right way
Yoga involves gentle, calming and swift body poses, accompanied with breathing techniques and meditation that helps in calming the body and the mind. Yoga is available in many styles and is compatible for people of all levels. There are 9 popular categories of yoga for fighting anxiety and depression: Hatha, Vinyasa, Bikram, Ashtanga, Hot, Iyengar, Kundalini, Restorative and Yin.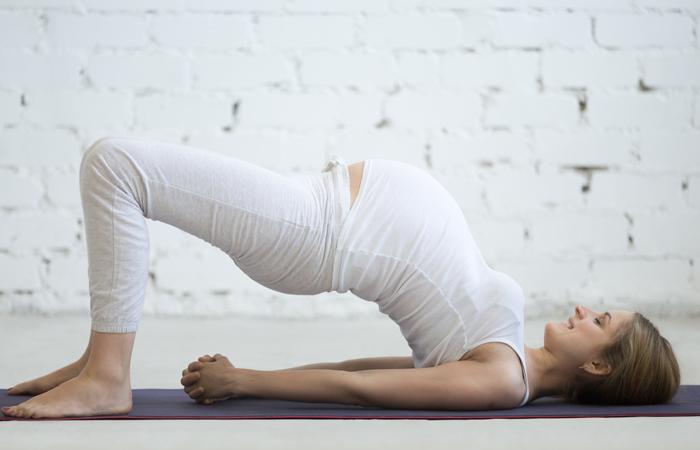 Some Effective Yoga Poses for Anxiety and Depression
Shavasana –

One of the easiest yoga exercise that you can begin with is the

Shavasana

or the corpse pose. After a strenuous workout session, you may just lie down with your feet apart, hands by your side with your palms facing upwards, eyes closed, breathe slowly and deeply and try thinking of just nothing, while you do the

Shavasana

to energize yourself.  

Padangusthasana-

For this pose, you need to stand upright with feet about 6 inches apart. While exhaling, bend forward and try touching your toes. Hold the position for at least 15 seconds. Inhale while you bring back your torso and head in the upright position.

Balasana –

Kneel down and rest your hips on your lower legs with toes touching the ground. Bring your body into a foetal position by resting your chest on the knees and bringing your hands parallel to your lower legs. Touch your forehead to the ground and begin with a breath cycle of at least 5 times in this position.

Makaro Adho Mukha Savasana –

Commonly known as the Dolphin Plank, this

asana

requires you to lie down on your chest and bring your torso parallel to the ground. Next, lift your body and balance yourself up with the help of your toes and elbows. Keep your back straight and hold your breath for at least 30 – 60 seconds before you exhale and slowly come down to the resting position.
Besides these, the Nadhi Shodha Pranayama or the channel cleaning breathe exercise is also very helpful in lowering the heart rate, purifying energy channels and reducing stress and anxiety.
If you are planning to join yoga classes, always ensure that your instructor is well qualified and is of a good repute. You can also follow instructional yoga videos available online to get a healthy mind, body and soul.
Tags – Yoga Classes North brisbane, Pilates North Brisbane, Pilates Training North brisbane, Zumba North Brisbane, Fitness Centre North brisbane